Follow me Twitter @tim4adoption   

Hello! My name is Tim Elder and I am an adoptive dad. My wife and I have adopted three newborns – our daughter in 2007, our son in 2012 and our 2nd daughter in 2017.
Read about our first adoption story and second adoption story.
You can listen to my story too! On episode 12 of the Infant Adoption Guide Podcast, I share all about what we went through to adopt our first two children.
I created InfantAdoptionGuide.com to help guide you on your domestic infant adoption journey.
My mission is to help you:
Adopt faster.
Adopt with less cost.
Adopt with less risk.
I write (and talk) about adoption tips & resources, inspiring stories, book/product reviews, agency reviews, and practical how-to information.
This site is full of helpful, hope-filled and inspirational content. So if you are ready to adopt – or even just thinking about adopting – if you have been waiting to build your family and be a mom or dad—then this is the place for you.  
WHERE DO YOU START?
Go to check out the PODCAST page and my BLOG page or check out these popular posts:
Adoption Agencies
3 Domestic Adoption Agencies With Little Upfront Costs
4 Domestic Adoption Agencies With Sliding Scale Fees
Domestic adoption agency reviews: 4 agencies that work with families from anywhere in the U.S.
Birthmothers
Things I Wish All Adoptive Parents Knew (from a Birthmother's Point of View)
10 simple birthmother gift ideas
Adoption Stories
An update of our second adoption story (our newest addition is here!)
Domestic adoption stories to inspire you
Adoption Tips
How to make a great adoption profile video
6 things we would have done differently on our first adoption
10 domestic adoption travel tips
More About Me…
My wife and I dealt with infertility for many years in our long journey to start a family. I'll never forget what it's like to have an empty home when you don't want one.
After we decided to adopt, we knew pretty quickly that we wanted to adopt a newborn so we chose domestic infant adoption. Like many adoptive couples, we started out totally overwhelmed with all of the adoption information that is out there.
After much research, we found Lifetime Adoption Center, who has helped us on all 3 adoptions and they have been great!   
Now that we've been blessed with three very successful adoptions – I want to HELP YOU.  
I invite you to SIGN UP BELOW to get automatic blog updates full of inspiration, adoption resources and how-to information.
You'll also get my 4 FREE Adoption ebooks/resources: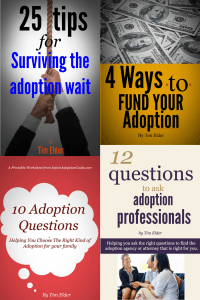 Just enter your email address below and I'll give you the link.
Now – let me share with you something that I've discovered and successfully done on EVERY ONE of our adoptions.
It is creating (and sharing) an amazing PROFILE VIDEO. In my opinion, it is one of the best and fastest ways to connect with an expectant mom, which will help you ADOPT FASTER.
I've created something to help you create and share your own adoption profile video. It's called Adoption Profile Videos MADE EASY. Just click on the picture below to find out more.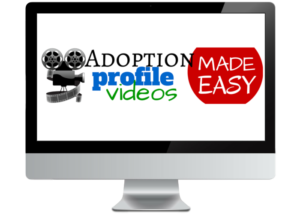 What do you want to know about domestic infant adoption?    
I'd love to hear from you – simply click here to contact me directly. I respond to every email. Thanks! God bless.